Stewardship Seminar at our school in Uganda
Curtin Child Learning Center in Uganda participated in a seminar organized by Opportunity International  Edufinance  in partnership with Sembabule District (Department of Education).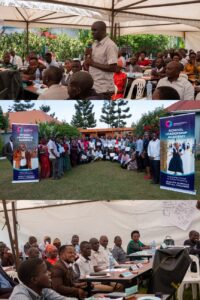 Highlights of the seminar included:
(1) Building a strong School Ecosystem (Teachers, Parents, Students, Suppliers, structures etc).
(2) Employ qualified team to achieve desired results to benefit the community we serve.
(3) School Budgeting & record keeping  for all transactions within school activities.
(4) School and/or  Classroom environment to make pupils more curious in outside class.
(5) Engage all stake holders to ensure direct beneficiaries understand the service (s) brought nearer to them to improve on their living conditions.
(6) Apply delegation as leadership style to run social business.
Augustus Kagyene, director of Curtin, committed "To change the way how we have been  doing things at our school, we have already started on implementation & improving on the above key areas where we were lacking."
It has been our pleasure to help Curtin build new classroom facilities to continue serving the children and adults in their community.  Please help us continue our support of Curtin Child Learning Center, a Tom Murphy School, by
clicking here.
Tom Murphy, president
Child Hope Worldwide Inc dba givenet.org